Feldenkrais® can broaden awareness, spark the imagination and help an individual gain a clearer self-image, leading to a feeling of wellness physically, emotionally and mentally.
Click here to find out more...


Revive your inherent knowledge of movement to Inspire a new generation of healthy beautiful dancers! Workshops, articles,
guest teaching
and more!
Click here...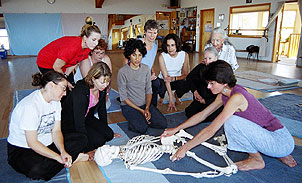 Photo by Lenny Foster




Check out our current workshops! Click here for details...



"The workshop you taught at the Academy during our wellness week introduced students and faculty to remarkable new concepts for maximizing movement potential. The professionalism of your presentations was as impressive as your class management skills and your concern for student learning." - Jean Marie Martz, Chair Dance Dept., Idyllwild Arts Academy, CA
Click here for more testimonials...




Prisca Winslow
PO Box 2714
Taos, New Mexico 87571
phone 575.779.7169
email info@moveintobalance.com