Annual Weeklong Workshop
for a Healthy Danceworld
This workshop will resume in the future.

Clarifying and Enhancing Dance Technique
with the Feldenkrais Method®

An experiential thought provoking week designed to educate and inspire teachers, aspiring teachers and advanced/professional dancers to live in the learning process. Refine skills of observation and clarify the possibilities and limitations of the skeleton to see/feel injuries before they happen and restore balance in yourself and your students.

"Transformational, Enlightening, Inspiring, Profound... I cannot recommend it highly enough." - Barbara Forbes, former Ballet Mistress for The Joffrey Ballet, faculty Sarah Lawerence College, Feldenkrais Practitioner, NY

Intelligent Injury-Free Dance is the focus of 6 days in the refreshing mountain climate of northern New Mexico. The workshop makes it's new home at the beautiful, full of natural light Move Into Balance Feldenkrais Studio located on the south side of Taos at 1335 Gusdorf Road, Suite J.

Delicious and healthy catered lunches are provided by local restaurants and are delivered to the studio each day allowing for a full 34 hours of class time balanced with time off. An informal dinner Tuesday, August 2nd is a relaxing opportunity to meet and visit with other participants. A dance video night is both for pleasure and checking in with observation skills after 3 days of study. A few Individual hands-on Functional Integration® lessons with Prisca can be scheduled outside of class time for an additional fee of $85.00.

"I came home relaxed and full of ideas... thank you for a superb workshop!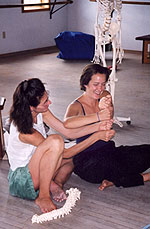 The whole experience was like an intense working body and mind on holiday." - Anne-Lore Zimmerman, Ballroom teacher/coach and Feldenkrais Practitioner, Germany

Each day will include Awareness Through Movement® (ATM) lessons, lectures, discussions and demonstrations relating to dance technique. A 'functionalized' skeleton and separate spine will be used throughout the workshop to clearly define how our bones and individual joints are beautifully designed for both strength and movement. In addition to the topics below we will also explore topics inspired by teachers questions.


Through Direct Experience we will...


Clarify how simple shifts in attention and intention dramatically contribute to developing technically strong dancers.


Encourage individuality and creativity.


Establish a balanced stress-free posture ready for movement and expression.


Examine the mechanics of turn-out.


Discover how improved coordination instantly increases strength and flexibility.


Free the head and neck for successful pirouettes.


Analyze the many challenging roles of the feet, including jumping, and attention to point and point shoes.


Further your ability to create situations and combinations where students learn spontaneously.


Refine observation skills to see/feel past the obvious.


Revive and refresh your well-being.


"I couldn't wait to incorporate all the new ideas and concepts I had learned... thanks so much not only for the knowledge but for your enthusiasm and commitment!" - Debbe Busby, Dance Teacher, Studio owner, TX







Workshop Schedule...

Lunches supplied by local restaurants will be at the studio (one hour break midday).

MONDAY
9:00AM to 9:15AM - Arrival
9:15AM to 10:00AM - Orientation and
begin introductions
10:00AM to 5:00PM - Class Time
Evening free

TUESDAY
9:00AM to 4:00PM - Class Time
6:00PM - Informal Dinner to meet and
visit with other participants

WEDNESDAY
Morning off for activities of your choice, hiking, sightseeing, shopping... resting
3:00PM to 6:00PM - Class Time
6:30PM to 8:30PM - Dinner and
dance videos

THURSDAY
10:00AM to 5:00PM - Class Time
Evening free

FRIDAY
9:30AM to 11:15AM Ballet Class
11:30AM to 5:00PM - Class Time
Evening free

SATURDAY
9:00AM to 4:00PM - Class Time


"Very, very, very enlightening and clarifying... my thinking was stimulated and I came away with a much better sense of functional anatomy, i.e. how the body is built to move and how certain misunderstandings of how the body works can lead to the training of a dancer that will be injured, frustrated or never fully expressive. Understanding how the bones are so beautifully put together gives me a greater understanding of how my thinking and misconceptions were affecting my movement. THANKS!" - Alice Brydges, dancer, tai chi teacher, Feldenkrais Practitioner, CA




Prisca Winslow
PO Box 2714
Taos, New Mexico 87571
phone 575.779.7169
email info@moveintobalance.com