PRISCA WINSLOW

Prisca began dancing 'in the womb' as her mother, Bette Winslow, prepared and presented an annual school Christmas performance, giving birth just hours after the final performance. She then accompanied her mother to scheduled dance classes officially joining at age three.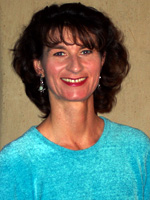 In addition to classical training, Prisca was fortunate to have an inspired local folk dance teacher. Attending numerous summer dance programs she was introduced to a wide variety of teaching styles.

Upon graduation from North Carolina School of the Arts High School she moved to NYC to study at Joffrey's American Ballet Center. Two years later the desire to recover fully from ankle and back pain and resulting surgery began a trying four year period of seeking help from numerous health professionals and teachers.

Discovering the Feldenkrais Method® in 1983 gave her the opportunity to recognize the personal habits that were keeping her in pain and she quickly moved pain free into the dance career she had focused on since childhood. She has found the depth of the Method Moshe Feldenkrais developed over a period of more than 40 years, holds endless intrigue for her interest in movement, attention, awareness and consciousness.

Prisca's performance experience in NYC includes Jumpstart Co., Beth Cachet Dance Co. and Choreographers' Showcases. She has taught children's ballet at the Joffrey; ballet, modern and jazz at Union County College, NJ; workshops for children at inner city schools, NYC; and was a faculty member of Bette Winslow Dance Studio (BWDS Inc.) in Taos, NM, as teacher, choreographer, performer and co-director of performances from 1987-1996. In 1997 she began a dream of many years, the first annual Intelligent Injury-Free Dance workshop, a 6 day Dance Teacher Intensive in Taos using the Feldenkrais Method®.

Prisca's summer study as a young dancer offered opportunity to study with some wonderful artists! Most memorably, Willam Christensen, Dina Bjorn (Bournonville), Marjorie Tallchief and George Skibine, Alexandra Danilova, Kosmovska and Gyula Pandi.

In NYC Prisca studied with Meredith Baylis and Basil Thompson among others. She has tremendous gratitude for the learning she gained from Michele Starbuck (ballet) and Lynn Simonson and teachers of her technique, Michael Geiger and Laurie Devito.

Prisca has presented Feldenkrais®/Dance workshops for West Texas University; BWDS Inc.; Ballet Jorgen in Toronto, Canada; Ballet Theater of Annapolis; Idyllwild Arts Academy, CA (1999-2005); Various Denver, CO studios (1999-2009); Sarah Lawrence College, NY and Feldenkrais Institute of NYC. Also Feldenkrais® Conferences in Washington D.C., NYC, NM and CO.







"Fabulous!!! I wish more teachers would be exposed to the ideas presented ... I think that injuries would be reduced, dancers would find the freedom to express themselves and the artistry of ballet and other forms of dance would grow. The emphasis of respecting the individual (student) but still giving them what they need to have 'proper ballet technique' is unique and valuable ... having attended four consecutive years I know how valuable the information is. Every year I learn something new!" - Heidi Gucinski Menocal, MD
Click here for more testimonials...




Prisca Winslow
PO Box 2714
Taos, New Mexico 87571
phone 575.779.7169
email info@moveintobalance.com