ABOUT FUNCTIONAL INTEGRATION®

Functional Integration® (FI) is the name Moshe Feldenkrais gave to his original form of working with people.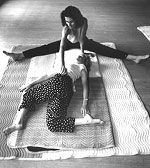 These individual lessons use a hands on approach and sometimes words to bring awareness to what it is you actually do, and introduce new movement possibilities. Because our movement habits define much of ourselves, discovering new movement not only expands our physical ability, it also expands our ability to feel, sense, think, create and act. As our self-image grows, self imposed limits drop away and we are free to move toward our full potential.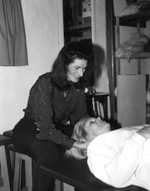 The lessons are often done lying down on a low comfortably firm table so the person may rest the usual work required to stand and move in gravity. However, Functional Integration® can be done in many different situations, such as sitting, kneeling, standing, walking, balancing on rollers, etc. The person is fully clothed so their learning may be easily transferred to their daily life. Feldenkrais Practitioners have studied a vast repertoire of movements and have learned to be keen observers of details in the whole of movements. Rather than a fixed technique, this allows each lesson to be created uniquely for an individual based upon their request. The client or "student" experiences an overall sense of well-being, improved breathing, flexibility, grace, and balance.







"Prisca's Intelligent Injury-Free Dance workshop was Transformational, Enlightening, Inspiring, Profound ... I cannot recommend it highly enough ... The marvel of your workshop is not only that you answer so many questions, but also that you give us the strength and faith to hold the unanswerable ones lightly; and let them take us onward in our own explorations. Thank you, thank you, thank you." - Barbara Forbes, NYC
Click here for more testimonials...




Prisca Winslow
PO Box 2714
Taos, New Mexico 87571
phone 575.779.7169
email info@moveintobalance.com