PRISCA WINSLOW

Prisca Winslow has spent her life studying movement.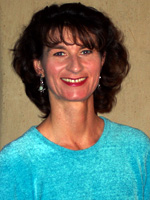 Initially a dancer, dance teacher and choreographer she began a four year training program in The Feldenkrais Method® in 1987 and is a Guild Certified Feldenkrais® Practitioner(SM) and Assistant Trainer in Feldenkrais® Teacher Training Programs. She has a private Functional Integration® practice in Taos, NM where she also teaches Awareness Through Movement® workshops for the general public, athletes, dancers and dance teachers. Prisca holds a particular interest of integrating awareness of healthy functional movement into dance training and other movement arts. She enjoys guest teaching at dance schools around the country.

Prisca has presented Feldenkrais®/Dance workshops for West Texas University; BWDS Inc.; Ballet Jorgen in Toronto, Canada; Ballet Theater of Annapolis; Idyllwild Arts Academy, CA (1999-2005); Various Denver, CO studios (1999-2009); Sarah Lawrence College, NY and Feldenkrais Institute of NYC. Also Feldenkrais® Conferences in Washington D.C., NYC, NM and CO.

A more complete dance-related bio can be found in the Intelligent Injury-Free Dance section above, or by clicking here.







"Prisca is one of the most inspiring dynamic practitioners. She was first my student, now my colleague. I am proud to be a witness to her evergrowing competence, her unequivocal and passionate commitment in presenting the Feldenkrais Method. Her practice and understanding of our method seem to me of the highest quality, maintaining the wide scope of our thinking and acting in relating to people, yet applying the specifics of our competence with and within movement. Not many practitioners manage this delicate sometimes elusive balance." - Yvan Joly, Montreal, Canada
Click here for more testimonials...




Prisca Winslow
PO Box 2714
Taos, New Mexico 87571
phone 575.779.7169
email info@moveintobalance.com